AW#101 - Product Discovery - przećwiczmy to!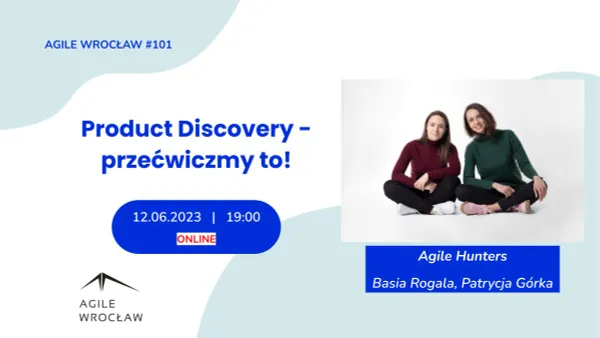 Event:
AW#101 - Product Discovery - przećwiczmy to!
Event type:
Webinar
Category:
Topic:
Date:
12.06.2023 (monday)
Time:
19:00
Language:
Polish
Price:
Free
City:
Strona www:
Log in, by zgłosić zmianę.
Description:
Jak rozwiązujesz problemy użytkowników? Czy faza "discovery" jest w ogóle w Twoim produkcie obecna? Jakich technik używasz? Rozmawiasz z klientami? Zanim przystąpisz do warsztatu, zadaj sobie te pytania, a na spotkaniu dowiesz się dlaczego są tak kluczowe dla powodzenia produktu nad jakim pracujesz ze swoim zespołem.
Product Discovery to zyskujący na popularności zwrot odnoszący się do odkrywania możliwości w rozwijaniu produktu na wczesnej fazie powstawania danych rozwiązań czy funkcji. Podejść do fazy "odkrywania" jest wiele. Jednak, jak z nich wszystkich wybrać to, które sprawdzi się w naszej sytuacji? Na to nie ma jednoznacznej odpowiedzi. Aby jednak nie wypuścić Was ze spotkania tylko z teorią, postaramy się przybliżyć Wam praktyczne wykorzystanie Opportunity Solution Trees, które opisuje w swojej książce Teresa Torres. Nie zabraknie też wskazówek jak uczynić z fazy "discovery" naszą codzienność i nie poprzestać na jednostkowym zrywie w sytuacjach kryzysowych.
O trenerkach
Agile Hunters to Basia i Patrycja - zgrany duet, który pasjonuje się światem zwinnym i zwiększaniem efektywności firm i osób indywidualnych. Od lat wspieramy osoby prywatne, małe i duże firmy dzieląc się swoją wiedzą i doświadczeniem, prowadząc szkolenia, realizując audyty czy doradzając liderom. Więcej o Agile Hunters można przeczytać na www.agilehunters.com i posłuchać w podcaście Agile Bez Scenariusza.