Jak zmienić polski produkt w globalny sukces? | Catch the Tornado Meetup#5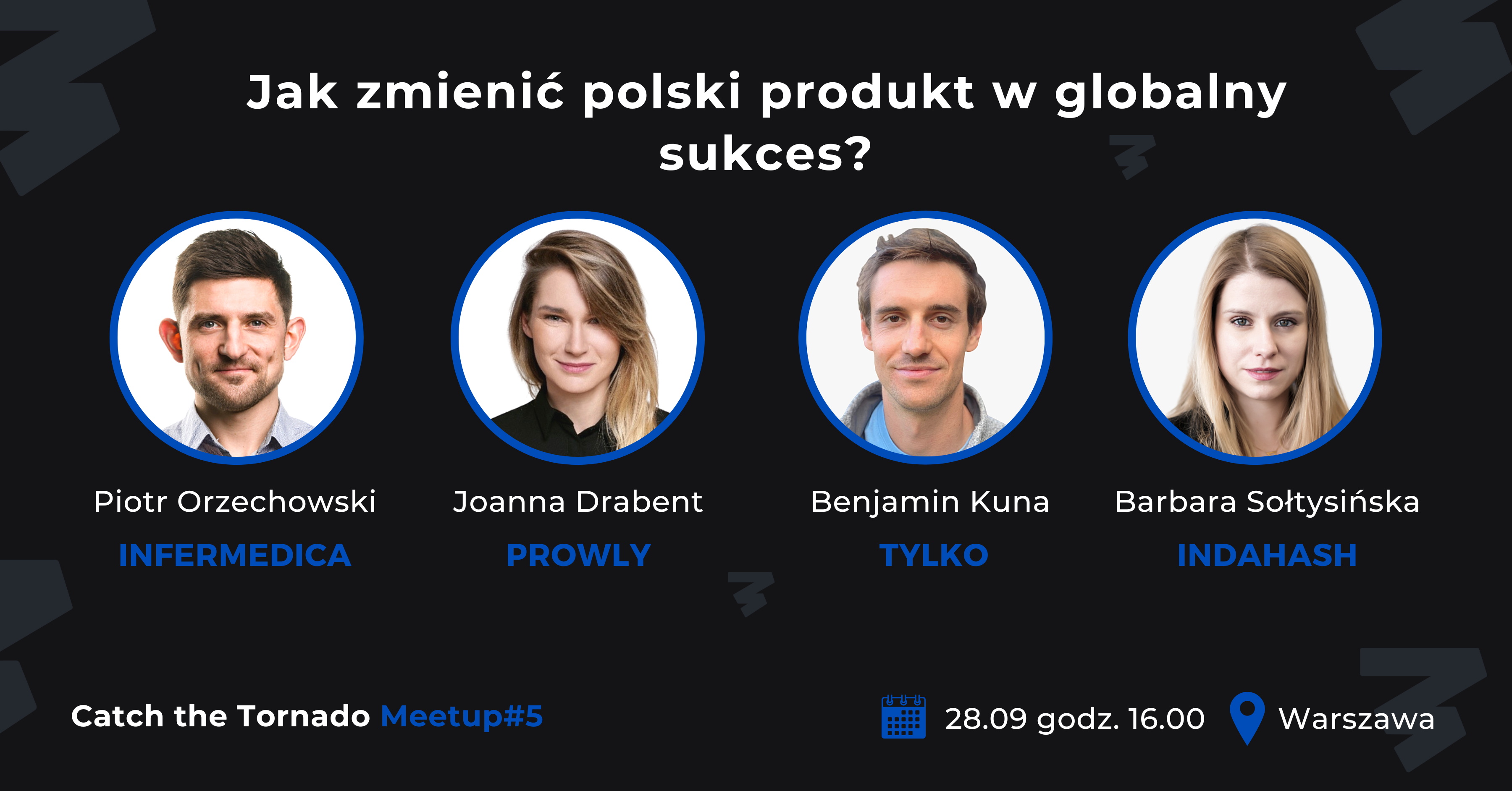 Event:
Jak zmienić polski produkt w globalny sukces?
Event type:
Meetup
Category:
Date:
28.09.2022 (wednesday)
Time:
16:00
Language:
Polish
Price:
Paid
City:
Registration:
Description:
Globalny sukces produktu technologicznego to cel wielu founderów. Przygotowanie firmy i zespołu na ekspansję zagraniczną to niemałe wyzwanie. Na Catch the Tornado Meetup#5 poznasz czynniki sukcesu skalowania produktu za granicą. 
CZEGO SIĘ DOWIESZ?
16.00 -18.30 Panel:
Jak przygotować organizację na wyjście za granicę?
Jak zdobyć pierwszych klientów na nowym rynku?
Jak zwiekszyć konwersje leadów z zagranicy 2 do 14 %?
Jak dobrze wyselekcjonować rynek?
Jak ułożyć proces sprzedaży?
Jakie są efektywne kanały akwizycji klientów?
Jak zbudować przewagę konkurencyjną?
Czy customizować produkt czy edukować rynek?
Jak wartości mogą Ci pomóc w skalowaniu?
18.30- 21.30 Pizza & networking
PANELIŚCI
Piotr Orzechowski, CEO Infermedica
Joanna Drabent, CEO Prowly
Benjamin Kuba, Co-founder Tylko
Barbara Sołtysińska, Co-founder indaHush
MODERATORZY:
Tomasz Karwatka, Co-founder Catch the Tornado
Maja Małyska, CEO Catch the Tornado Dots 
DLA KOGO?
Bilet dla startup, scaleup, SaaS, software house, ecommerce, produceni oprogramowania - 99 zł netto/os
MIEJSCE?
Google, Plac Konesera 10a, Warszawa
MASZ PYTANIA?
Skontaktuj się z organizatorem: