<< Go to event list
Angular Warsaw #21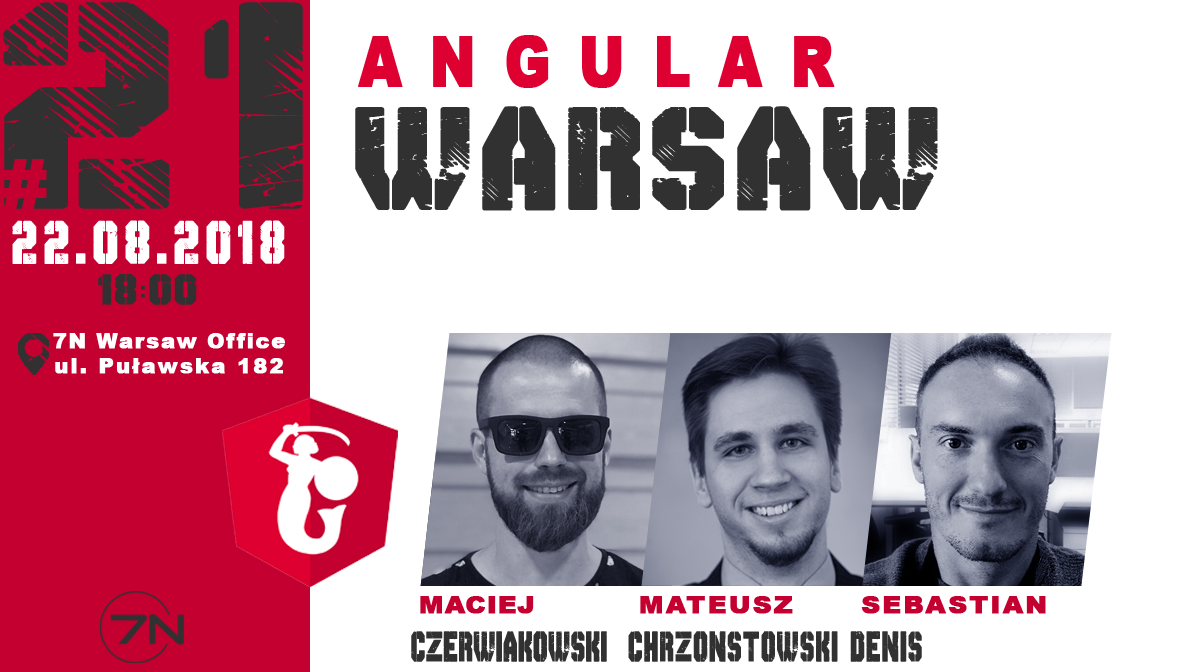 Event:
Angular Warsaw #21
Event type:
Meetup
Category:
Topic:
Date:
22.08.2018 (wednesday)
Time:
18:00
Language:
Polish
Price:
Free
City:
Place:
7N Warsaw Office
Address:
ul. Puławska 182
www:
Description:
Angular Warsaw #21
Maciej Czerwiakowski - IoT: Home light control switch with Angular2+ and ESP8266
1. Preparing Angular2+ app to serve on limited hardware
2. Serving Angular2+ SPA from ESP8266
3. Make it plug and play
4. Creating basic WebAPI
5. Driving 220V AC relay from Angular2+ App
Mateusz Chrzonstowski - Lessons from writing my own Angular utility lib
I had a dream. I wanted to create a popular open-source solution on top of Angular 2+. Do you remember a translation pipe from AngularJS? It had an author name directly inside the name of the main module ('pascalprecht.translate'). My plan didn't work and I've stopped working on my library since my son was born. But I still learnt a lot. And this presentation is to share my lessons learnt with all of you.
Sebastian Denis - (WARSZTAT) NativeScript - pierwsze kroki w Angularze
25 minut - krótka prezentacja podzielona na 2 zagadnienia:
Krótka charakterystyka NativeScript (działanie, porównanie do innych frameworków JS)
Jak zacząć programować w NativeScript (przegląd narzędzi, Playground + tutoriale, Sidekick, Cloud Build, integracja z VS Code).
15 minut - prezentacja Playground i dostępnych tam tutoriali (jak uruchomić, jak odpalić appkę na telefonie)
90 minut - warsztaty podczas których wspólnie budujemy appkę:
Portfel Bitcoin do odczytu
Prosta aplikacja, w której dodajemy różne adresy Bitcoinowe i widzimy saldo w BTC. Poruszymy takie zagadnienia jak:
Instalacja Sidekick i rozszerzeń do VS Code, konfiguracja środowiska.
Wykorzystanie szablonów startowych dostępnych przez Sidekick.
Programowanie w NativeScript z użyciem VS Code (+debugowanie).
Kompilowanie appki na Androida i IOS z wykorzystaniem Cloud Build.
Wgrywanie appki na własny telefon.
Appkę będziemy ulepszać w cyklach, dlatego jeżeli będą jakieś opóźnienia to któreś z bardziej zaawansowanych elementów pominiemy.
Planuję w appce wykorzystać:
Szablony dostępne Sidekick
Wywołania zewnętrznego API (pobieranie salda adresu bitcoin z http://blockchain.org ).
Typowe komponenty jak listy, przyciski i pola tekstowe, obrazy.
NativeScript UI (wykresy)
Dark Theme + animacje CSS
Obsługa aparatu (skaner kodów QR z wykorzystaniem dodatkowego pluginu)
Do zobaczenia!
You see an error in an event? The event is out of date? Tell us about it! >>
Pracodawcy IT: Warszawa
SoftServe
Software House
Białystok, Gliwice, Poznań, Warszawa, Wrocław
5 ofert pracy
&nbsp
Asseco Poland S.A.
firma technologiczna
Białystok, Bielsko - Biała, Bydgoszcz, Gliwice, Katowice, Kraków, Lublin, Mielec, Opole, Poznań, Radom, Rzeszów, Sanok, Szczecin, Tarnów, Trójmiasto, Warszawa, Wrocław, Łódź
11 ofert pracy
&nbsp
DreamLab [Ringier Axel Springer Polska]
Kraków, Warszawa, Wrocław
2 oferty pracy
&nbsp
Zobacz wszystkie firmy >>