Embedded Finance and SuperApps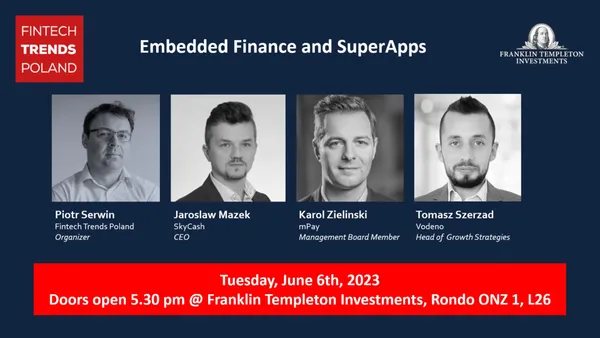 Event:
Embedded Finance and SuperApps
Event type:
Meetup
Category:
Topic:
Date:
06.06.2023 (tuesday)
Time:
17:30
Language:
English
Price:
Free
City:
Strona www:
Log in, by zgłosić zmianę.
Agenda:
5:30 pm - Doors open
Networking and refreshments time.
6:00 pm - Welcome address by Piotr Serwin
6:05 pm - Introduction to the topic by Tomasz Szerzad - Head of Growth Strategies at Vodeno and fintech advisor. Tomasz specialises in building embedded banking solutions and commercial strategies of BaaS projects for platforms and brands. Executive and supervisory board member of digital and technology startups. Ex retail products' manager at Aion Bank for Belgium and Poland. His past endeavours include M&A and PE advisory at a major management consulting firm, and operations management at a global investment bank
6:20 pm - Panel Discussion with: Jaroslaw Mazek, Karol Zielinski, Tomasz Szerzad
Moderated by Piotr Serwin
7:30 pm - 8:30 pm
Closing and networking
Description:
Embedded finance services enable consumers, businesses, and companies to accept, make payments, lend or provide insurance without conventional financial institutions. Do you wonder, who benefits the most from embedding financial products and services in these new channels? Why is there no WeChat equivalent in Europe yet? Are super-apps the future in Europe too? Will Elon succeed in turning Twitter an "X" super-app? These are some questions that we will try to answer in an upcoming meetup where, together with subject-matter experts, we will focus on embedded finance. Join us to stay ahead of the curve.
Jaroslaw Mazek, CEO at SkyCash, payment app for city tickets, parking fees, rail ticker and more. Jaroslaw is an accomplished manager with over 15 years of experience in both financial institutions and technology companies. His diverse range of responsibilities includes creating comprehensive budgets, forecasting long-term financial performance, and overseeing legal and compliance matters, all while proactively managing risk. Throughout his career, he has had the privilege of leading teams in various departments, including product development, sales, marketing, and customer service.
Karol Zielinski - entrepreneur and manager. Board member at mPay, founder&CEO of The 3x Company. Previously, long-term CEO at PayLane. Fascinated by new media, a fan of content marketing. Specialist in tech businesses. Graduate of the International Executive MBA at GFKM, University of Gdansk and Rotterdam School of Management. Graduate of computer science at Gdansk University of Technology. Actively advises startups as well as large corporations. Mentors in startup competitions. Cooperates with Polish VC funds on their investment portfolios.
Tomasz Szerzad - Head of Growth Strategies at Vodeno and fintech advisor. Specialises in building embedded banking solutions and commercial strategies of BaaS projects for platforms and brands. Executive and supervisory board member of digital and technology startups. Ex retail products' manager at Aion Bank for Belgium and Poland. His past endeavours include M&A and PE advisory at a major management consulting firm, and operations management at a global investment bank