FPadnij na śniadanie w Krakowie: .Net, Java, React, Node.js, Angular, QA, DevOps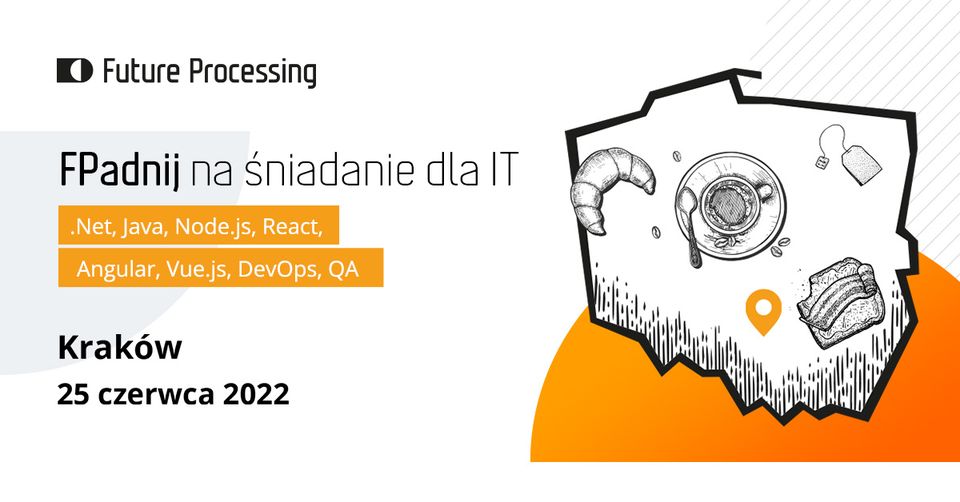 Event:
FPadnij na śniadanie w Krakowie
Event type:
Meetup
Category:
Topic:
Date:
25.06.2022 (saturday)
Time:
09:30
Language:
Polish
Price:
Free
City:
Registration:
Organizer:
Future Processing
Agenda:
Spotkanie będzie prowadzić nasza śniadaniowa ekipa:
- Paweł Pustelnik – Managing Director,
- Jarek Porwoł – Lead Software Engineer
Description:
Dla kogo jest to spotkanie?
Dla inżynierów z minimum 3-letnim doświadczeniem w branży IT. Jeśli więc któreś z tych haseł: .NET, Java, Node.js, React, Angular, Vue.js, QA, DevOps jest Ci bliskie, to świetnie!
Opowiemy Ci o tym, jak pracujemy i dbamy o rozwój na co dzień, jakie projekty realizujemy oraz z jakimi wyzwaniami się mierzymy. Dowiesz się też co nieco o naszej historii i planach na najbliższe lata, a także o tym, jak wygląda kultura organizacyjna Future Processing. Poznasz także nasze podejście do pracy zdalnej i hybrydowej.
Startujemy 25 czerwca 2022 o godzinie 9.30 w lokalu Bazaar (Kraków, Plac Nowy 6). Nie będziemy robić żadnych prezentacji na rzutniku, nie namawiamy do rekrutacji, do niczego nie zobowiązujemy. Nie ma też dress code'u - po prostu spotkanie na luzie.
Pamiętaj o zarejestrowaniu się na wydarzenie!*
Do zobaczenia przy śniadaniu i porannej kawie.
***
Spotkanie ma charakter zapoznawczy. Jeśli uznasz, że do siebie pasujemy, będzie okazja do kontaktu z rekruterem.
***
*Kliknięcie "wezmę udział w wydarzeniu nie oznacza rejestracji na spotkanie. Zapisy prowadzimy tutaj: FPadnij na śniadanie w Krakowie: .Net, Java, React, Angular, QA, DevOps Tickets, Sat, Jun 25, 2022 at 9:30 AM | Eventbrite