<< Go to event list
Kochamy Pomagać - charity event for Patryś Radwański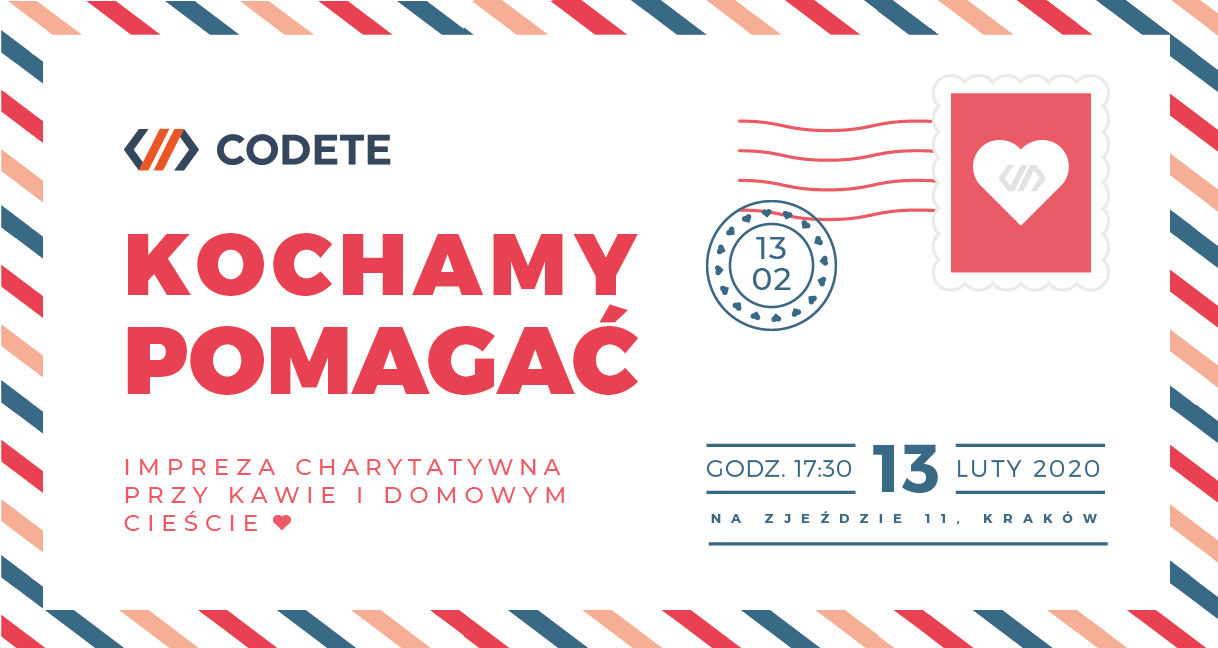 Event:
Kochamy Pomagać - charity event for Patryś Radwański
Event type:
Meetup
Category:
Topic:
Date:
13.02.2020 (thursday) - 14.02.2020 (friday)
Time:
17:30
Language:
Polish
Price:
Free
City:
Registration:
Facebook:
Description:
13.02.2020, from 5:30 pm Codete organize a very special party KOCHAMY POMAGAĆ
What is this weird Valentine's Day about? In one sentence: a little help in a big case.
In Krakow and Lublin we meet for a coffee & cake and we collect money for a very good cause:
In Lublin we support Lubelskie Centrum Wolontariatu. You can take part in our auctions: Valentine's dinner, professional makeup, animations.. You will also have the opportunity to eat something really tasty and play ping pong!

In Krakow we are collecting money for the world's most expensive drug for spinal atrophy (SMA). The speed at which kids receive millions for treatment restores faith in people. So Codete is joining this initiative too! Initially we were supposed to support Kacperek Ryło but since he collected his 8 MLN PLN one week ago, we have changed the recipient- we are raising another millions for little Patryś.
details: https://www.siepomaga.pl/patrys
What can you do?
1.Show up at our charity party on 13.02.2020 in Kraków or Lublin
2. Support us by:
Baking a cake for Codete Bake Sale

Bringing a gadget for our auction until 10.02.

Taking part in our Codete Ping Pong Tournament
3.Taking part in our auctions where you can buy: Valentines Cards made by our great Codete Designers, movie posters from Olszańska and other cool gadgets!
So, choose the action that you like most and let's make it happen!
All the best,
Codete
You see an error in an event? The event is out of date? Tell us about it! >>