KraQA #60 Zbudujmy razem framework testowy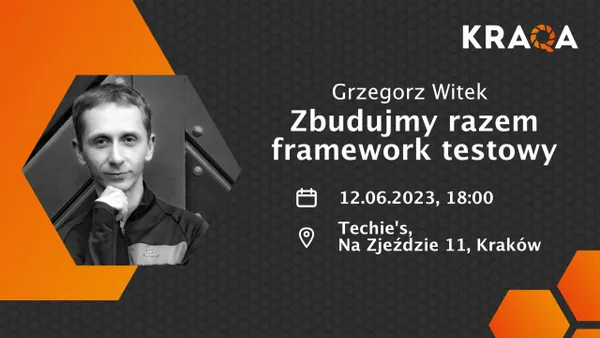 Event:
KraQA #60 Zbudujmy razem framework testowy
Event type:
Meetup
Category:
Topic:
Date:
12.06.2023 (monday)
Time:
18:00
Language:
Polish
Price:
Free
City:
Strona www:
Log in, by zgłosić zmianę.
Description:
O prelekcji:
Zapraszam na interaktywne spotkanie, na którym razem zaplanujemy budowę framework'u testowego. Tak to nie jest błąd - to Wy i Wasze wybory będą decydujące w tworzeniu strategii i w budowaniu framework'u testowego. W trakcie spotkania wcielicie się w architektów testów i to właśnie Wy określicie strategię testów oraz zadecydujecie jakich narzędzi i bibliotek użyć, aby zapewnić jakość w projekcie.
O Grzegorzu:
Jestem związany z jakością oprogramowania od 2010 roku. Moja przygoda z testowaniem rozpoczęła się dawno temu zaczynając od testera manualnego, poprzez testera automatyzującego, aż do głównego inżyniera jakości. W między czasie miałem też okazję zdobyć bezcenne doświadczenie jako 'specjalista' od Dockera, jako on-call coordinator oraz jako lider techniczny.