<< Go to event list
Let's DAZN IT! - Bazy danych Lovefield DB / Scaling frontend applications with micro-frontends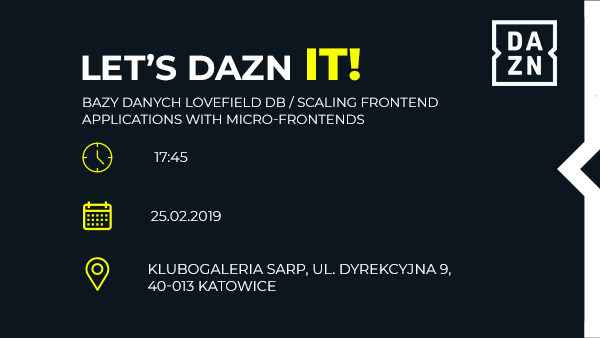 Event:
Let's DAZN IT!
Event type:
Meetup
Category:
Topic:
Date:
25.02.2019 (monday)
Time:
17:45
Language:
Polish , English
Price:
Free
City:
Registration:
www:
Facebook:
Organizator:
Perform Media Poland
Agenda:
Poznajcie naszych prelegentów!
Description:
Let's DAZN IT! - Bazy danych Lovefield DB / Scaling frontend applications with micro-fronteds
Opis wydarzenia:
Let's DAZN IT! to cykl spotkań poświęconych różnorodnym zagadnieniom z obszaru programowania oraz szeroko pojętej dziedziny informatyki. Prowadzone przez profesjonalistów tworzących DAZN dla profesjonalistów, lecz także dla osób głodnych merytorycznych, branżowych informacji. Czeka na Was możliwość spotkania świetnych ludzi, coś na ząb, gorąca dyskusja, a później integracja!
Podczas drugiej edycji Let's DAZN IT! skupimy się na tematach związanych z FrontEndem. Jednym z naszych prelegentów będzie Luca, który jest mówcą największych konferencji na świecie – więcej informacji o nim znajdziecie tutaj: https://lucamezzalira.com/about/
You see an error in an event? The event is out of date? Tell us about it! >>