<< Go to event list
.NET DeveloperDays 2020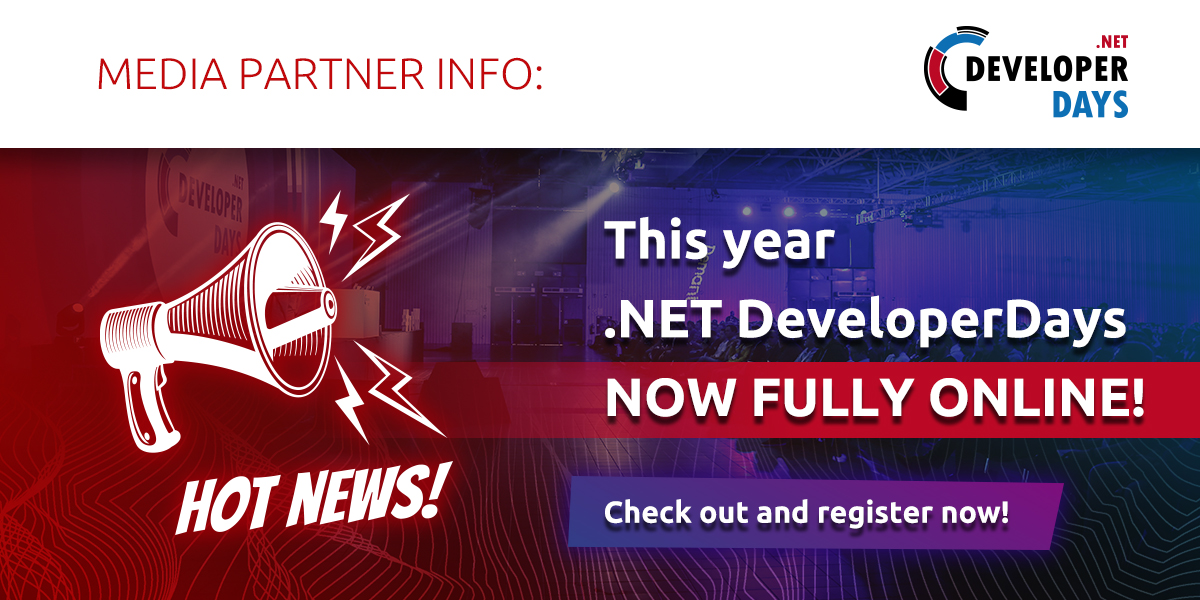 Event:
.NET DeveloperDays 2020
Event type:
Conference
Category:
Topic:
Date:
20.10.2020 (tuesday) - 21.10.2020 (wednesday)
Time:
09:00
Language:
English
Price:
Paid
City:
Place:
Online Event
Address:
On your computer
www:
Description:
.NET DeveloperDays is the biggest event in Central and Eastern Europe dedicated exclusively to application development on the .NET platform. It is designed for architects, developers, testers and project managers using .NET in their work and to those who want to improve their knowledge and skills in this field.
The conference content is 100% English, making it easy for the international audience to attend.
We have taken the difficult decision to move .NET DeveloperDays 2020 entirely online and cancel the in-person part of the event.
The safety and comfort of our speakers and attendees is our primary concern and we decided not to take any risks there. We also realize that many of you could not take part in the in-person event due to either company policies or flight bans – the same goes for many of our speakers.
Therefore, in order to make this a safe and enjoyable experience for everyone involved, we decided to concentrate our efforts on organizing a great online conference with highly informative sessions delivered by amazing speakers (see our conference agenda)
The online event will take place at one of popular virtual events platform, with conference sessions conducted via WebEx or Zoom.
Our participants will have the opportunity to interact with each other as well as with speakers, sponsors and our staff during the event.
A few days before the event, all participants will receive a full information package. It will contain all the necessary information about remote participation in the conference.
You see an error in an event? The event is out of date? Tell us about it! >>