<< Go to event list
Santa Cloud Katowice #5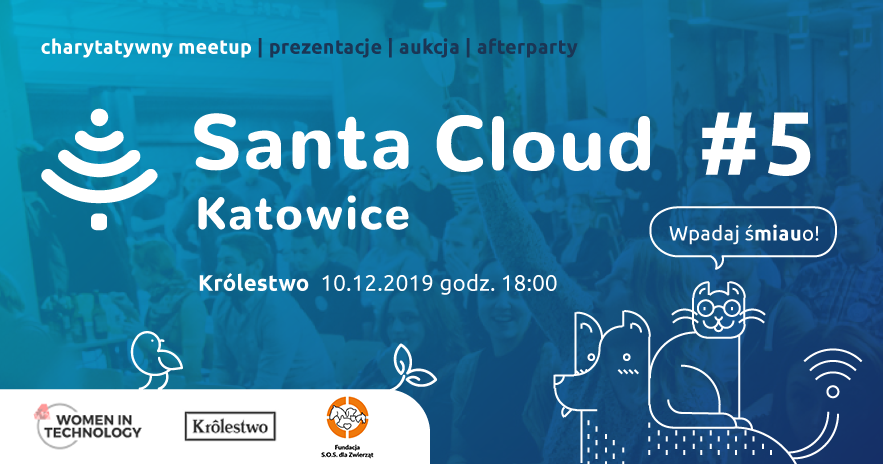 Event:
Santa Cloud Katowice #5
Event type:
Meetup
Category:
Date:
10.12.2019 (tuesday)
Time:
18:00
Language:
Polish
Price:
Free
City:
Facebook:
Agenda:
Piotr Łój - Czy VR może wyrównywać szanse dla grup wykluczonych?
Gosia Bekas - A gdyby Twój pies sam mógł umówić się do weta
Michalina Drozd & Oskar Poprawki (Cardiocube) - Kopernik była kobietą, a interfejs głosowy jest kobietą!
Description:
Santa Cloud to coś więcej niż zwykły meetup IT. Po raz piąty spotykamy się, aby wysłuchać inspirujących prelekcji i pomóc zwierzętom!
W programie blok prezentacji, występ iluzjonisty, aukcja charytatywna i networking!
W przerwie czeka na Was występ magika, a po prezentacjach - niczym wisienka na torcie - aukcja charytatywna "Giełda marzeń", podczas której wylicytujecie "fanty", które wzbogacą Wasze życie zawodowe (np. voucher na kurs programowania, konsultacja jak pozyskiwać fundusze od VC, biznesowa sesja zdjęciowa...) — i prywatne (np. nauka bachaty, czy warsztaty z improwizacji)!
Wydarzenie wspiera zwierzęta fundacji SOS dla Zwierząt
Do zobaczenia na Santa Cloud!
You see an error in an event? The event is out of date? Tell us about it! >>
Pracodawcy IT: Katowice
Asseco Poland S.A.
firma technologiczna
Białystok, Bielsko - Biała, Bydgoszcz, Gliwice, Katowice, Kraków, Lublin, Mielec, Opole, Poznań, Radom, Rzeszów, Sanok, Szczecin, Tarnów, Trójmiasto, Warszawa, Wrocław, Łódź
14 ofert pracy
&nbsp
EPAM Systems
Software House
Katowice, Kraków, Trójmiasto, Warszawa, Wrocław
20 ofert pracy
&nbsp
Netizens
Software House
Katowice
2 oferty pracy
&nbsp
Zobacz wszystkie firmy >>