<< Go to event list
The Hack Summit 2020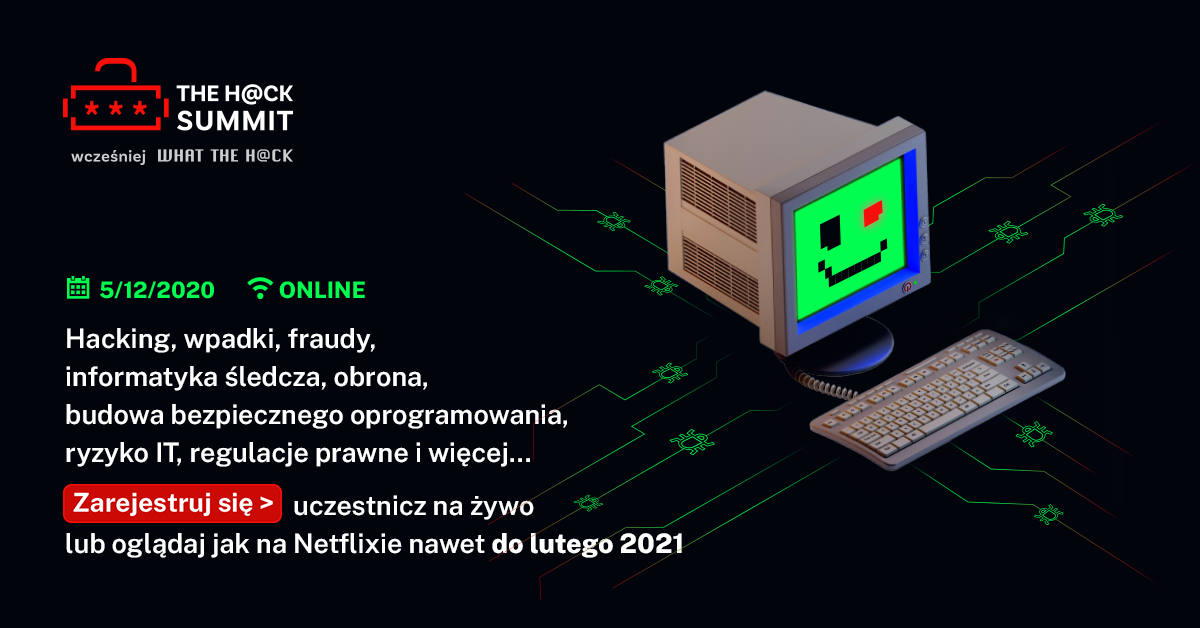 Event:
The Hack Summit 2020
Event type:
Meetup
Category:
Topic:
Date:
05.12.2020 (saturday)
Time:
09:00
Language:
Polish , English
Price:
Free
City:
Place:
Online Event
Address:
On your computer
www:
Facebook:
Description:
The Hack Summit to kontynuacja konferencji What The [email protected] pod nową marką, od jej głównego pomysłodawcy.
Podczas #THS20, tak jak poprzednio, możecie spodziewać się:
10+ ścieżek tematycznych
topowych prelegentów z Polski i zagranicy
całego środowiska w jednym miejscu
targów pracy, produktów i usług IT Security
...i wiele więcej
A wszystko to w nowej, wyjątkowej formule nagrań VoD, LIVE streamingów i stacjonarnych wydarzeń towarzyszących.
Obserwuj, aby być na bieżąco:
Twitter > https://twitter.com/TheHackSummit
LinkedIn > https://www.linkedin.com/showcase/the-hack-summit
Rejestracja: https://TheHackSummit.com
Chcesz zostać prelegentem podczas I edycji The Hack Summit?
Zgłoś swoje wystąpienie w ramach CALL FOR PAPERS: https://TheHackSummit.com/cfp
Chcesz wesprzeć projekt i razem z nami go współtworzyć?
Zostań Sponsorem / Partnerem – wypełnij formularz CALL FOR SPONSORS na stronie: https://TheHackSummit.com
Organizatorzy: Fundacja Academic Partners, Narodowe Centrum Bezpieczeństwa Cyberprzestrzeni
You see an error in an event? The event is out of date? Tell us about it! >>