Grape Up is a technology consulting company helping the world's leading enterprises deliver their most impactful software using AI, Machine Learning, Cloud-Native Technologies, and a unique approach to software delivery.
Through implementing a DevOps approach, AI and cloud-native technologies, Grape Up enables enterprises from the most competitive industries to reduce time-to-market for new products and services. Grape Up is an experienced partner in setting up and orchestrating cloud-native platforms, building and developing AI-powered, cloud-native applications, transforming legacy software into modern apps and skilling up engineering teams.
Enterprises collaborate with Grape Up to increase operational efficiency, unlock new business opportunities, and gain a competitive advantage while building secure, reliable and scalable products.
Key information
Place:
Bialystok, Cracow, Wroclaw
Company type:
technological company
Date of establishment:
2006
Number of employees:
100-150
Type of projects:
Projects for clients
Key customers / partners:
Porsche, Volkswagen, Rijkswaterstaat, DBS Bank, First American, Adidas, Swisscom, Allstate, Cummins, Balfour, Avay
Used Technologies/Tools
Key:
.NET Core, Angular, Ansible, AWS, Azure, BOSH, Cloud Foundry, Cloudboostr, Concourse, CSS, Cucumber, ELK, Grafana, HTML, Java, JavaScript, Jenkins, Kafka, Kubernetes, MongoDB, OAuth2, Obj-C, OpenStack, Prometheus, Python, RabbitMQ, React, Redis, Selenium, Splunk, Spring, Spring Boot, Swift, Terraform, VMware
Employees
Klaudia Jazowska
Recruitment Specialist
Łukasz Fiedoruk
Front-end Developer
Filip Ryba
Technical Leader
Reviews of our employees
Grape Up to firma, która dba, żeby praca była przyjemnością, ale też wyzwaniem pozwalającym doskonalenie umiejętności. Ma wiele zaawansowanych projektów, które pozwalają na wykorzystanie potencjału ludzi i ich zawodowy rozwój. Wykorzystuje najnowsze technologie i metodyki pracy. Zachęca do brania udziału w międzynarodowych konferencjach i warsztatach.
Krzysztof Skrzyszewski, Project Manager
, w firmie od marca 2013
Pracując w Grape Up bez przerwy ma się wrażenie, że jest się ważnym elementem większej całości - w tej firmie nie jest się jedynie trybikiem w maszynie, ma się za to bezpośredni wpływ na usługi i rozwiązania, które dostarczamy klientom. Firma jest nastawiona na rozwój - zarówno pod względem użycia nowych technologii i wzbogacania umiejętności pracowników.
Wojciech Urbańczyk, IT Administrator
, w firmie od grudnia 2017
Employee profits
System kafeteryjny (do wyboru m.in. LuxMed)
System kafeteryjny (do wyboru m.in. Benefit Multisport)
Kursy językowe: angielski, niemiecki, polski
Wydarzenia branżowe: udział w szkoleniach, konferencjach (również zagranicznych)
Kuchnia
Kawa, herbata, napoje zimne
Owoce, słodycze, raz w tygodniu Lunch&Learn
Grupa strzelecka, joga, piłkarzyki, PlayStation, miejsce do relaksu
Weekendowe wyjazdy integracyjne, wspólne wyjścia
Parking
Parking rowerowy
SUKCES MIESIĄCA: co miesiąc wytypowana przez pracowników osoba zgarnia bon na kolację z osobą towarzyszącą
SUKCES ROKU: co roku pracownicy wybierają spośród nominowanych w poszczególnych miesiącach jedną osobę - pracownika roku, który otrzymuje wyjazd zagraniczny z osobą towarzyszącą/rodziną w dowolnie wybrane miejsce na świecie
We organise events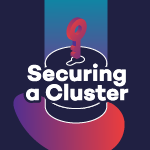 Securing a Cluster - Kubernetes Meetup
K8s is getting hot these days! If you're into containers, clusters, and containerization, you can't miss our upcoming meetup. Our experts, working with the platform on a daily basis, will guide you through the most important aspects of security while using Kubernetes
Grape Up from the inside
Video