<< Go to event list
ShIThappens Nights #2 Lublin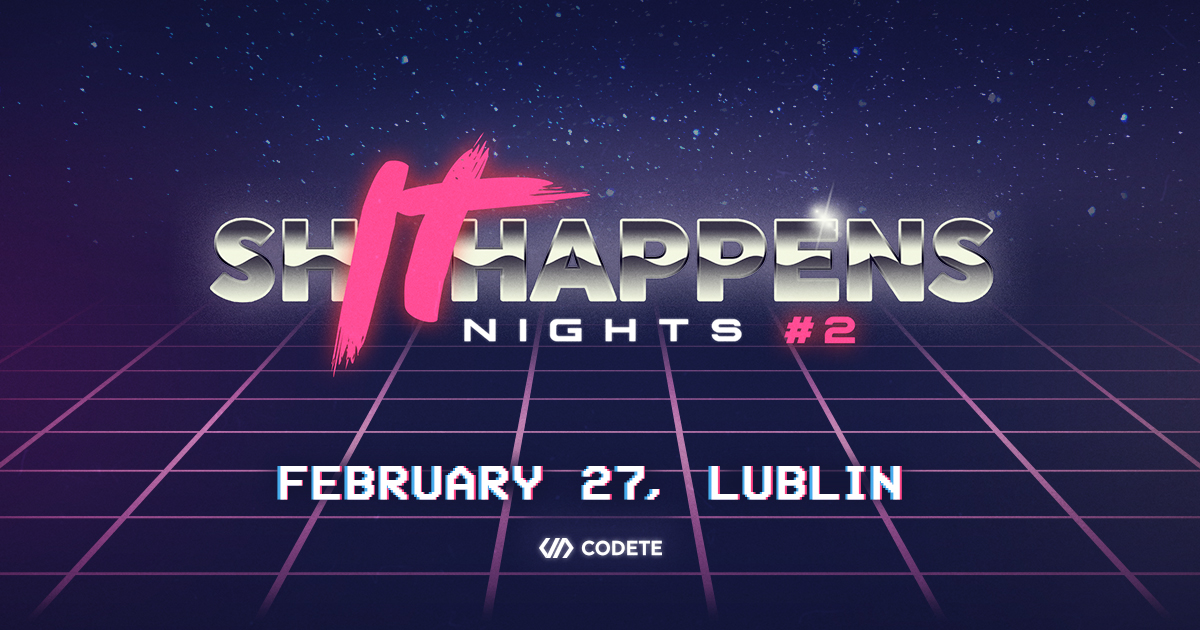 Event:
ShIThappens Nights #2 Lublin
Event type:
Workshops
Category:
Topic:
Date:
27.02.2019 (wednesday) - 27.02.2019 (wednesday)
Time:
18:00
Language:
Polish
Price:
Free
City:
Place:
Trybunalska City Pub
Registration:
www:
Facebook:
Description:
Po raz pierwszy w Lublinie! Cykl wydarzeń ShIThappens Nights organizowanych przez Codete.
ShIThappens Nights #2 to wydarzenie dla odważnych! Nie czarujmy się, zawsze można coś w projekcie sknocić. Ani my, ani nasi goście nie boimy się powiedzieć co nam się... zepsuło :) i co trzeba było z tym zrobić!
4 prelegentów, 4 historie związane z porażkami w pracy i biznesie IT.
Wspólnie uczymy się na błędach innych i wyciągamy wnioski. Nie zabraknie również przekąsek i napojów :)
Prelegenci:
Mateusz Bryła, Senior Software Engineer - "Ile można zepsuć testową bazą danych"
Hubert Kosacki, Android Developer - "Tweaking an obsolete Android app- co może pójść nie tak"
Marek Dziewit, Senior Software Engineer - "Jak perfekcjonizm doprowadził do tragedii, czyli historia pewnej wyszukiwarki"
Mariusz Łobejko, Project Manager - "Opuszczony projekt..."
Agenda:
18:00 - Otwarcie rejestracji
18:30 - "Prezentacja 1 + Q&A
18:50 - "Prezentacja 2 + Q&A
19:10 - Przerwa
19:20 - "Prezentacja 3 + Q&A
19:40 - "Prezentacja 4 + Q&A
20:00 - Networking + Pizza Time!
Zapraszamy do bezpłatnej rejestracji! Liczba miejsc ograniczona.
You see an error in an event? The event is out of date? Tell us about it! >>
Pracodawcy IT: Lublin
Asseco Poland S.A.
firma technologiczna
Białystok, Bielsko - Biała, Bydgoszcz, Gliwice, Katowice, Kraków, Lublin, Mielec, Opole, Poznań, Radom, Rzeszów, Sanok, Szczecin, Tarnów, Trójmiasto, Warszawa, Wrocław, Łódź
11 ofert pracy
&nbsp
Codete
Software House
Kraków, Lublin
2 oferty pracy
&nbsp
Zobacz wszystkie firmy >>