Hack4change - 48h by zmienić świat 2023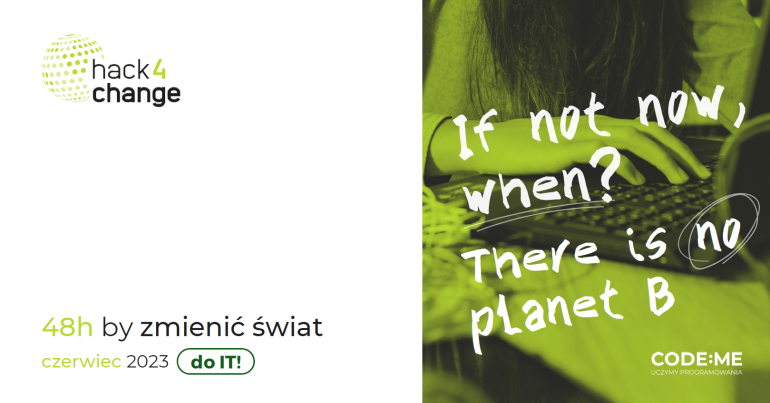 Event:
Hack4change - 48h by zmienić świat 2023
Event type:
Hackathon
Category:
Topic:
Date:
02.06.2023 (friday) - 04.06.2023 (sunday)
Time:
18:00
Language:
Polish
Price:
Paid
City:
Place:
Gdański Park Naukowo-Technologiczny
Address:
ul. Trzy Lipy 3, Gdańsk
Registration:
Strona www:
Facebook:
Log in, by zgłosić zmianę.
Description:
Lubisz challenge? Bo my bardzo!
Jeżeli interesujesz się nowymi technologiami i nie jest Ci obojętny los naszej planety - to z pewnością odnajdziesz się na Hack4change – 48 godzinnym ekologicznym maratonie programowania.
Fundacja CODE:ME po raz trzeci łączy siły z Marek Kaminski Academy, aby wspólnie zorganizować dla Was wyjątkowe wydarzenie – hackathon, podczas którego technologia spotka się z ekologią!
W tym roku zdecydowaliśmy się na trzy ścieżki tematyczne:
• Człowiek i jego dobrostan
• Natura
• Technologia
Co powstanie ze spotkania kreatywnych ludzi, pasjonatów technologii oraz entuzjastów ekologii? Niezwykłe prototypy rozwiązań, które pomogą zmienić świat!
Kiedy? 2-4 czerwca 2023
Widzimy się stacjonarnie w Gdańskim Parku Naukowo- Technologicznym
Przed wydarzeniem zapraszamy na warsztaty tematyczne wprowadzające w technologię hackathonu.
Po więcej informacji o Hack4change zapraszamy do oficjalnej strony wydarzenia: https://hack4change.tech
48h by zmienić świat 2023
W razie pytań zapraszamy do kontaktu na: [email protected]
Bądźcie z nami podczas III edycji hackathonu! Be the Change!
Wydarzenie odbędzie się w formule BYOL (Bring Your Own Laptop)
#doit! #thereIsnoplanb #bethechange! #hack4change