Kariera IT we Wrocławiu!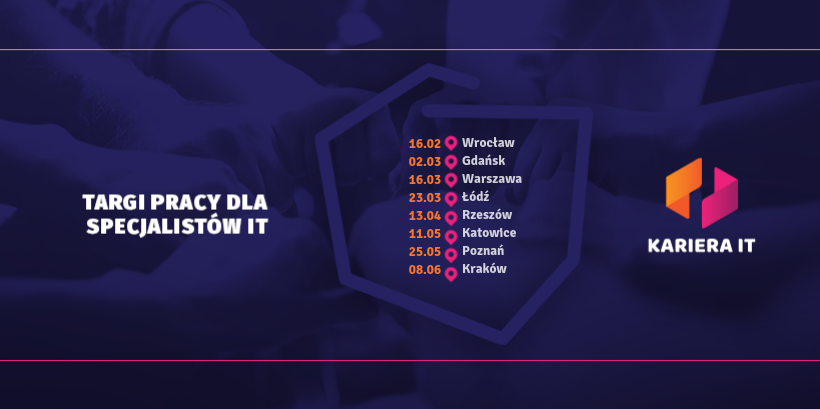 Event:
Kariera IT we Wrocławiu!
Event type:
Fairs
Category:
Date:
16.02.2019 (saturday)
Time:
09:00
Language:
Polish
Price:
Free
City:
Place:
Hotel Ibis Styles Wrocław
Address:
plac Konstytucji 3 Maja 3
Strona www:
Log in, by zgłosić zmianę.
Description:
Zarówno duża korporacja jak i mała spółka potrzebują w swoich zastępach pracowników specjalizujących się w różnych aspektach branży IT. Od lat, tak i w tym roku Kariera IT umożliwi pracodawcom znalezienie kandydata, który idealnie wpasuje się w potrzeby konkretnej firmy.
Kariera IT to wydarzenie, które jednego dnia i w jednym miejscu umożliwia przede wszystkim:
nawiązanie kontaktów z pracodawcami w luźniej, przyjaznej atmosferze,
zapoznanie się z aktualnymi ofertami na rynku pracy IT i wzięcie udziału we wstępnej rekrutacji w kilkunastu firmach,
uczestnictwo w prelekcjach branżowych prowadzonych przez specjalistów,
konsultację CV z doradcą zawodowym.
Jedyne co musicie zrobić aby wziąć udział w wydarzeniu to zarejestrować się na stronie.
Tematy prelekcji:
- Intune i Azure AD bez tajemnic (Jakub Piesik)
- Loosely coupled architecture - jak pozbyć się efektu domina (Radosław Maziarka)
- Lean UX Research - kim jesteś, stworze? (Joanna Ostafin)
- From pre9 to 11 in real Java app (Piotr Przybył)
- TypeScript myths debunked (Krzysztof Żuraw)
- Kult Cargo - czyli błędy przy wprowadzaniu Agile (Jakub Drzazga, Radosław Orszewski)
- Materializowane widoki, wiecznie niedoceniane (Krzysztof Kozłowski)
- The rise of multi-model databases (Witalij Rudnicki)
- Nowości w ReactJS (Adrian Ciura) 
Cały czas uzupełniamy dla Was program wydarzenia, więc możecie się spodziewać co i raz nowych informacji :)