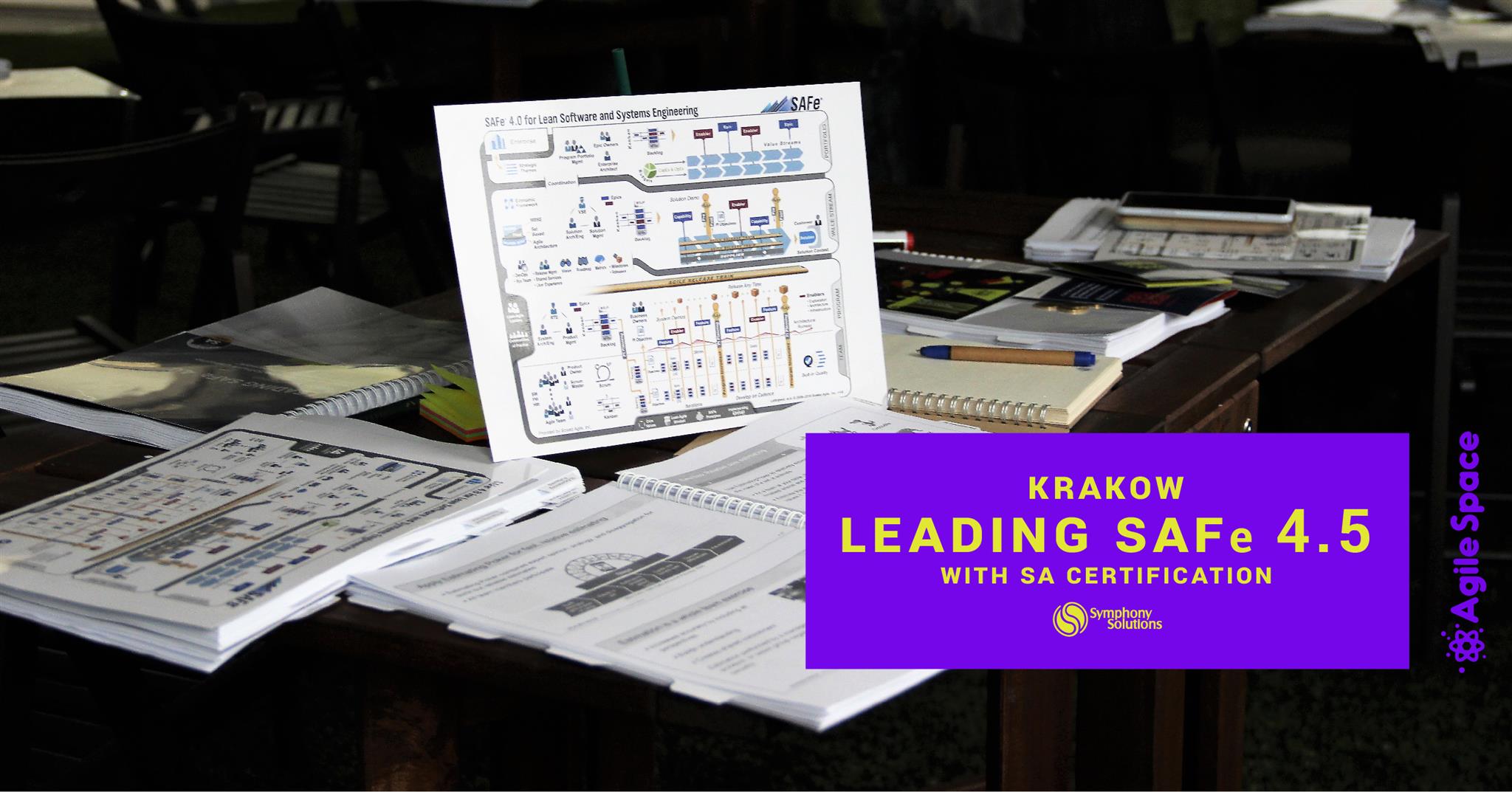 Nazwa:
Leading SAFe ® 4.5 Training with SA (Scaled Agile) Certification in Krakow
Kategoria:
Agile / Lean
Tematyka:
Scaling
Poziom:
Typ:
Szkolenia eksperckie
Data:
09.10.2018 - 10.10.2018
Tryb:
Dzienne
Język:
angielski
Liczba godzin:
16 godz.
Wstęp:
płatny
Miasto:
Adres:
O3 Business Campus, City Space, 1st floor, ul. Opolska 114, 31-323 Krakow
Strona www:
Opis:
Visit Leading SAFe® 4.5 class with SAFe Agilist (SA) certification on October 9-10, 2018 in Krakow, Poland.
Become a Lean Agile change agent within your enterprise.
SAFe® (Scaled Agile Framework) is a lifeline for enterprises which makes their steps toward Agility. SAFe® provides full guidance on how to organize your work in Lean Agile way not only on team level based on Scrum or Kanban but also covers all levels of organization like Program, Portfolio etc.
SAFe® provides instruments for coordination between teams resolving dependencies, achieving transparency and alignment in scaled projects. In these cases, special tuned solutions are needed to help your organization fully benefit from all advantages of Agility such as flexibility, synchronizing, and lean approach toward complex challenges.
What is the target audience?
Executives
Managers
Consultants
Change agents, who are involved in Agile transformation processes in scaled enterprises
Product Managers
Scrum Masters
Project Leaders
During the class, the participants will not only learn theoretical principles of the SAFe® framework but will train and polish their new-gained skills during practical exercises and real-life simulations.
The class is based on SAFe® 4.5 version and will run in English.
Trainer
Kseniya Kobryn (UA) – founder of the Agile Space platform, Agile coach at Symphony Solutions, Certified Scrum Professional and SAFe® 4.5 Program Consultant
The training will cover the following topics
Introducing the Scaled Agile Framework (SAFe®)
Embracing a Lean-Agile Mindset
Understanding SAFe® Principles
Implementing an Agile Release Train
Experiencing PI Planning
Executing and Releasing Value
Building an Agile Portfolio
Coordinating Large Value Streams
Leading the Lean-Agile Enterprise
What you get from the training 
Deep understanding of Agile-Lean fundamentals and Scaled Agile Framework (SAFe®)
Comprehensive knowledge of how to build an Agile Portfolio
Skills of leading and executing Agile Release Trains
Roadmap on how to drive and guide Agile transformation at enterprise scale, support Agile teams, programs, and program portfolio management
At the end of the class, all participants will be able to pass the test which will designate them as certified SAFe®0 Agilist (SA) by Scaled Agile
Perks and bonuses for attendees 
Two full days of the training led by the experienced coach
16 PDUs and 16 SEUs
Class agenda verified by Scaled Academy
One free attempt to take the SAFe®Agilist Certification Examination (fee is included in the class fee)
One-year membership with Scaled Agile
Free full SAFe® Agilist manual from Scaled Agile Framework
Participation costs 
600 EUR – Early Birds until 7th of September;
700 EUR – regular price
When: October 9-10, 2018, 09:00 – 17:00 (incl. breaks)
Where: O3 Business Campus, City Space, 1st floor, ul. Opolska 114, 31-323 Krakow
Rejestracja i dodatkowe informacje:
https://goo.gl/pKfszL