<< przejdź do listy wydarzeń
Outsource People 2017 Krakow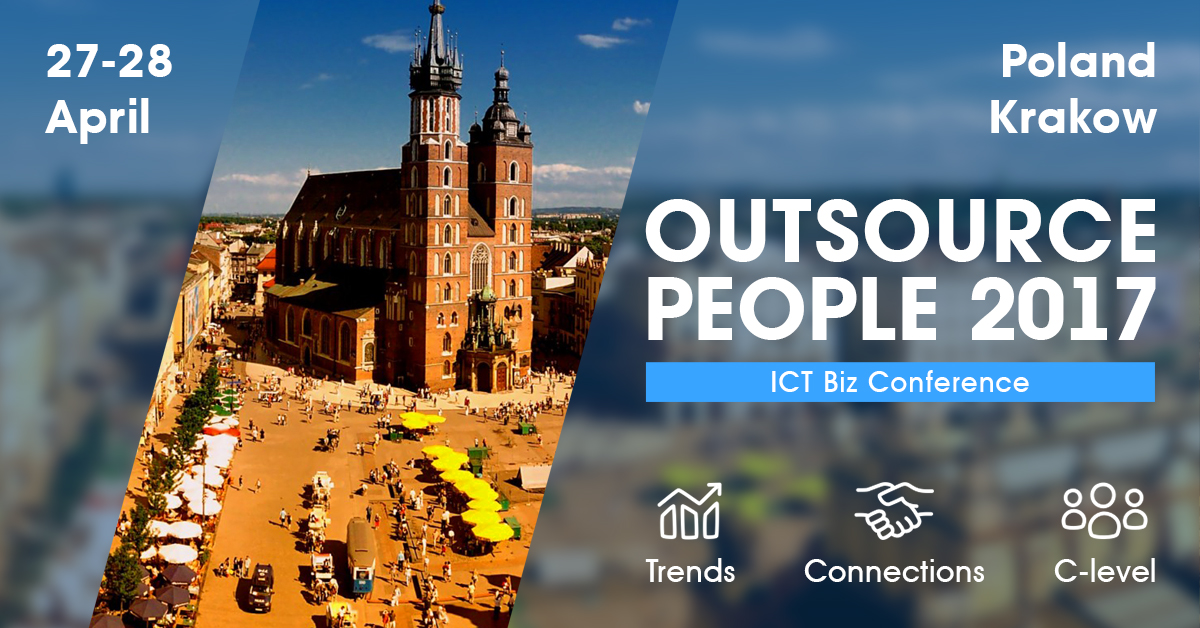 Wydarzenie:
Outsource People 2017 Krakow
Typ wydarzenia:
Konferencja
Kategoria:
Tematyka:
Data:
27.04.2017 (czwartek) - 28.04.2017 (piątek)
Godzina:
09:00
Język:
angielski
Wstęp:
Płatne
Miasto:
Miejsce:
Park Inn by Radisson Krakow
Strona www:
Opis:
Outsource People 2017 Krakow - 6th International ICT business conference for owners and managers of IT-companies Book your ticket at http://bit.ly/2nztdou Outsource People is a two day specialized conference which will inspire you and give you the key ideas to bring the business to a new level. The conference gathers representatives of the top management of small and medium IT-companies to exchange experience and business contacts. We expect 300 participants: CEOs, Sales Managers, BizDev, Marketing Managers and Project Managers.
27-28 April 2017 #OP2017Krakow will be held to promote the development and long-term cooperation of Polish and Ukrainian outsourcing software development companies. Krakow was chosen for a reason: this city is the leader among IT outsourcing centers in Central and Eastern Europe according to the Tholons Top 100 Outsourcing destinations. We invited successful entrepreneurs and experts to speak, so that you get practical knowledge and avoid mistakes in the management of the company as well as find partners for joint projects and meet colleagues. What will the owners and directors get from participation:
New business opportunities for cooperation of Polish and Ukrainian IT-companies.
Best practices in organization of financial processes and departments of Sales, HR and Marketing,
Ways of strategic growth. Sales, BizDev, Marketing managers:
Effective sales and marketing tools
Better understanding of the ICT business
Clearing of obstructions and tricks in communication with potential customers
The speeches will be given simultaneously: Business Strategy and Sales & Marketing.
Details of the program and online registration: http://bit.ly/2nztdou
Organizers: Bright Outsource, consulting agency for IT-companies.
See you in Krakow at Outsource People!
The history of Outsource People:
We organized the conference for the first time in 2013 as a local event for colleagues from Kharkiv. However, the program and the star cast of speakers attracted 270 guests from all over Ukraine. Since then, the conference moved to Kyiv and is traditionally held in November. In April 2016 we ventured upon becoming the first major ICT event in Belarus and gathered 350 participants in Minsk and then over 1000 at Outsource People 2016 Kyiv: from Ukraine, Russia, Belarus, USA, Israel and Poland. All of this is because the guests of our events are free to choose a program: the schedule provides a set of alternatives, how a business man can spend the time. Watch the video of #OP2016Kyiv: https://www.youtube.com/watch?v=Sf50HHGVBzM
Widzisz błąd w wydarzeniu? Wydarzenie jest nieaktualne? Poinformuj nas o tym! >>
Pracodawcy IT: Kraków
Miquido
Software House
Kraków
4 oferty pracy
&nbsp
GlobalLogic Polska
Software House
Koszalin, Kraków, Szczecin, Wrocław, Zielona Góra
3 oferty pracy
&nbsp
Sky-Shop.pl
Firma technologiczna
Kraków
5 ofert pracy
&nbsp
Zobacz wszystkie firmy >>